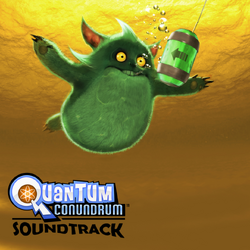 The Quantum Conundrum Soundtrack was released August 28, 2012 and is available from the Steam Store for 4.99 USD and is included in the Quantum Conundrum Season Pass.
The game's soundtrack was composed and performed by Chris Ballew.
Flip a Switch Instrumental – 2:39
Spring is in the Air – 2:46
Unsafety Dance – 3:21
Safe and Sound – 2:59
A Clockwork Fluffy – 4:07
Desmond's Theme – 4:15
Science Groove – 3:31
It's Our Density – 4:18
He Ain't My Brother – 4:21
Unexpected Results – 4:05
In Search of Bigfoot – 4:39
Do Bots Dream of Electric Sheep? – 2:29
Flip a Switch – 3:08
Ad blocker interference detected!
Wikia is a free-to-use site that makes money from advertising. We have a modified experience for viewers using ad blockers

Wikia is not accessible if you've made further modifications. Remove the custom ad blocker rule(s) and the page will load as expected.