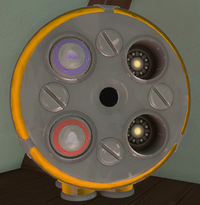 IDS Receptacles control which dimensions a handheld IDS Device can activate in an area. A receptacle usually contains four slots where IDS Batteries may be placed, though some may be blocked, forcing the player to choose which dimensions he wants available at the moment.
Ad blocker interference detected!
Wikia is a free-to-use site that makes money from advertising. We have a modified experience for viewers using ad blockers

Wikia is not accessible if you've made further modifications. Remove the custom ad blocker rule(s) and the page will load as expected.