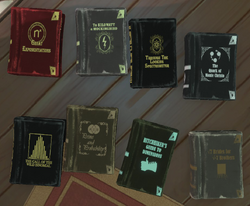 Books are found on shelves and otherwise laying about throughout Quadwrangle Manor. For the most part they only serve as decoration. Their titles tend to reference works of literature and scientific or mathematical concepts.
Stacks of Books
Edit

In addition to individual books there are also stacks of books bound together with what appear to be leather belts. Similar in function to normal books except bigger, these can hold down
pressure plates
when in the
Heavy Dimension
.
Professor Quadwrangle
states he saw the need to belt books together when he began experimenting with some of the "more volatile"
dimensions
.
List of Books
Edit
Ad blocker interference detected!
Wikia is a free-to-use site that makes money from advertising. We have a modified experience for viewers using ad blockers

Wikia is not accessible if you've made further modifications. Remove the custom ad blocker rule(s) and the page will load as expected.